Spec Drawing Assembly Guide Packaging
Desktop Microphone Stand MDS-5:
The MDS-5 Microphone Desk mount is a great solution to set up your next recording studio or radio station. Its great for radio station broadcasting, recording studios or presentations; specially if you like to interact with your audience. It features a mobile phone stand clamp that holds most cellphones, and also has an easy-edge desk-mount that uses a clamp which you can adjust to fit on most surfaces. Suitable for microphones with a 1.18"(30mm) diameter or less. It comes with a double-sided net pop filter that cleans and delivers high quality audio.


Main Features:
* Adjustable Microphone Angle
* Double-Sided Net Pop-Filter (Noise Reducer and Quality Enhancement)
* Rubber rings are tied together to secure the microphone tightly.
* Adjustable Desk-Mount Clamp fits most surfaces
* Multi-Angle Cellphone Clamp
** Microphone NOT Included **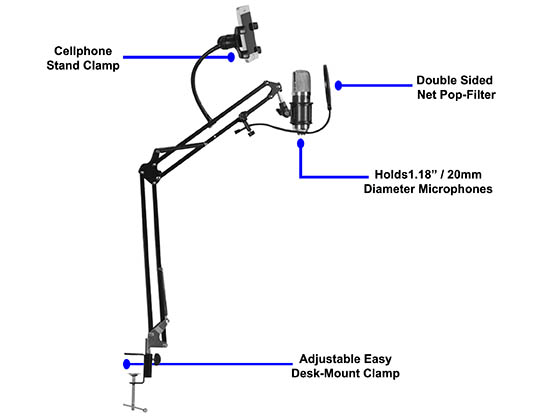 Additional Information:
* Cell phone clamp rotates 360 degrees
** Microphone NOT Included **
* Holds microphones with a 1.18"(30mm) diameter or less
* Easily removable cell phone clamp
* Adjustable angles
* Adjustable table mount clamp thickness 2.36"(60mm)
* It can easily hold cellphone & microphone firmly without sagging