24-Pack Solar Landscape Solar Lights LB101:
This Solar powered LED lights with stake are design for garden, back yard outdoor lighting, they charge during daytime with solar panel just fully charge during day time and decorate your garden at night time, simple steps assembly no tools required,
ready to use in less than a minute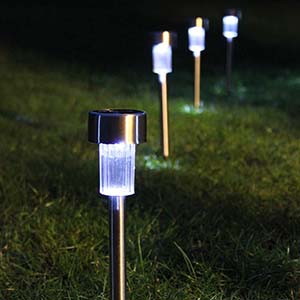 How Solar Light Works ?
During the day the solar panel converts solar power in to the rechargeable battery ,
At night time the light turns on automatically with the stored energy,
How long the light last to illuminate ?
It depends on geographical location, weather conditions and seasonal light availability.
Features & Remarks :
* No wires required
* Easy assembly
* Ready to use in less than 1 minute
* Energy Saver
* Switch needs to be on "ON" Mode
* Solar Panel embed
* Avg charge time (6Hrs of direct sunshine to solar panel)
* IP44 Rated