24 Hours Mechanical Mini timer 2-Pack:
With this 2-pack 24 pack mechanical 3-Prong timer all you have to do is plug in the appliance or electric device like,
and manually set the desire time with the switch knob. You can set as many ON periods as you like in a 24 Hour period.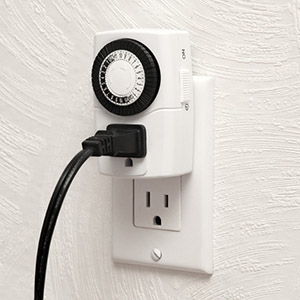 Main Features:
* 3-Prong Plug
* 24 Hours ON/OFF per day
* With switch knob
* With grounded pin
* Min. Setting time: 30 mins
* Max. Setting time: 24 hours
* 125V~,60Hz,15A Resistive
* 8A tungsten,1/2HP,TV-5
* Dimensions 3.15 x 2 x 2"