16-way HDMI splitter distributes the input of the HDMI signal to 16 outputs simultaneously. Each amplifier splitter's output can achieve long distance transmission of HDMI signal up to 60Ft.
IR Extension Function
IR Extension function allows you to extend remote control IR signal through HDMI cable. Say you have a TV and cable box in the living room, and a second TV in the bedroom upstairs. You can change the cable channel either in the living room or in the bedroom upstairs with the cable box remote control. You do not have to go downstairs each time you want to change the cable channel.
** IR remote control adapters are required (sold separately). **
If you do not need IR extension function you do not need IR extension adapters. 110533 just works as HDMI splitter.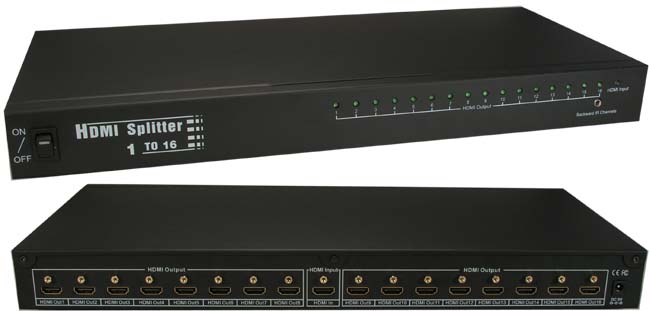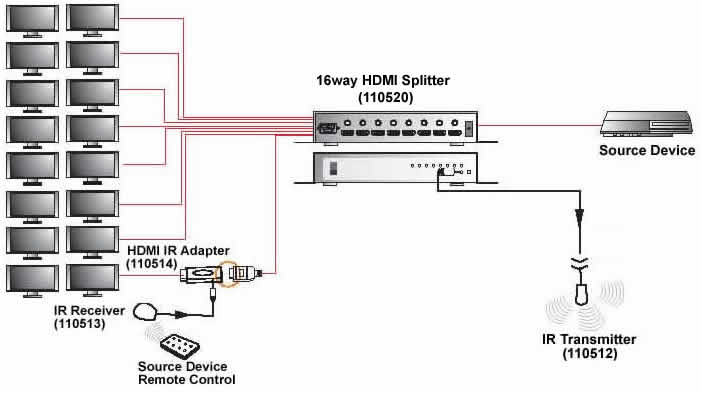 Specifications:
* 1-in / 16-out HDMI splitter
* IR extension supported (needs 110512, 110513, and 110514)
* IR transmitter (110512), IR receiver (110513), IR Adapter (110514) not included
* HDMI version: High speed with 3D support
* HDMI resolution: Max 4K x 2K
* Support video color format: deep color 36bit
* Support audio format: -DTS-HD/true-HD/LPCM7.1/AC3/DTS/DSD
* Date transfer speed: 6.75Gbps
* Input Video signal: 5.0Volts P-P
* Output cable distance: <=60Ft without equalizer
* Power adapter : Input: AC (50HZ.60HZ) 100V-240V; Output: DC5V: (included)
* Operating Temperature range: (-15 to +55 Degree)
* Operating Humidity range: 5 to 90%RH (No Condensation)
* Dimensions: 440 x 200 x 44mm (17.3" x 7.85" x 1.73")
* 19" rack mountable (mounting ears included)