With legacy ISA address and Parallel operation mode selectiveness feature, SUNIX PAR5008R simulates onboard native parallel port operation completely. User can connect traditional software protection dongles, JTAG chip programmers, data acquisition, machine process control, scientific measurement systems, and other parallel devices as well as computer's native parallel port. SUNIX PAR5008R Remap card is designed with SUNIX high performance and realizable Parallel connectivity controller, UL7502AQ and as well built with many of SUNIX advanced features and technologies, making it the advanced and high efficient solution for commercial and industrial automation applications.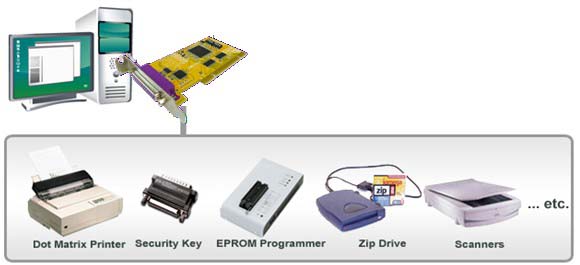 Features
* High reliability SUNIX UL7502AQ Parallel controller on-board.
* Expand single IEEE1284 compatible DB-25 type Parallel LPT port on system.
* Universal PCI compatible with 64/32-bit PCI-X/PCI Bus and 3.3/5V connector key.
* Compliance with PCI 33MHz Version 3.0/2.3/2.2/2.1 specification.
* Support IEEE 1284-1994 parallel port standard with user configuration
- ECP (Enhance Capacity Port) / EPP (Enhance Parallel Port)
- SPP (Standard Parallel Port) / BPP (Bi-direction Parallel Port)
* Support legacy ISA address (278, 378, 3BC) or standard PCI Plug-n-Play modes.
* Install as a fully featured I/O mapped and operation configured as computer's native parallel LPT port.
* Low profile bracket design idea for slim or portable PC.
* Certified by CE, FCC, RoHS, and Microsoft WHQL approval.
* Support Microsoft Windows, Linux, and DOS.