Cell Phone Repair Tools:
This is the complete tool repair kit that you will need most of the time,
every tool that that you will need for installations,opening housing/case,
or repair works on cellphones, tablets,laptops and mobile devices is included.

Unique,user-friendly and compact design, Synchronized with the screw holes,
so that work more easily.

Suitable for maintenance of precision apparatuses such as electronic,
apparatuses, timekeeper and telecommunication equipment.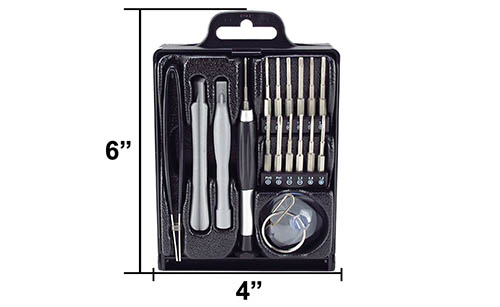 Kit Contents :

* Aluminum alloy Handle
* 13pcs for 4mm bits:
* (Philips)PH00,PH0,PH1 (1 of each)
* SL1.5,SL2.0 (1 of each)
* Torx:T4,T6,T8,T10 (1 of each)
* HEX1.5,HEX2.0 (1 of each)
* Pentalobe 0.8-1.2 (1 of each)
* Plastic Prying Tools (x 2)
* Guitar Pick Opening Tool (x1)
* Suction Vacuum Opener (x1)
* SIM eject tool (x1)
* Tweezers (x1)
* Plastic box (x1)