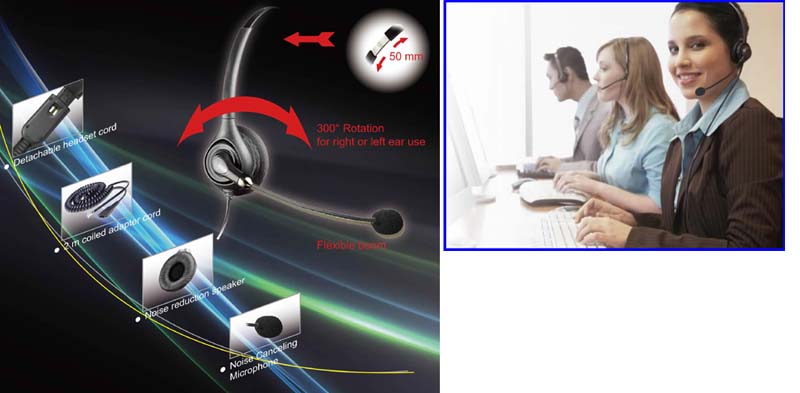 The EPHS100 is single earpiece headset with noise-canceling microphone, designed for office use. It's confortable design and clear sound quality is ideal for call center or customer support desk where your customer conversation is mission critical. The headset comes with detachable telephone adapter cord (Plantronics compatible) and carry bag, so you just disconect the adapter when you move away from the desk. Or you can keep it in the bag to store in your drawer when off duty.
* Single earpiece mono headset
* Adjustable head band
* Flexible microphone boom for optimum microphone positioning
* 300 degree rotation boom for left or right earpiece setting
* Ultra clear noise-canceling microphone
* Ergonimic design; comfortable design for all day use.
* Fully compatible with standard band environments
* 55gram light weight headset
* Telephone set adapter cord let you walk away from the phone desk without removing headset
* Cable length: Straight 2.5Ft
* Adapter cable: Coiled 6Ft, quick connect plug / RJ22 (4P2C) handset plug (Plantronics compatible)
Package content;
One corded mono headset with microphone
One adatper cable
One carry bag
One set up guide