Wall-mount Solar Sensor LED Light (4Pc Set):
The LED solar multi-mode sensor Light is ideal for outdoor lighting use, it is wall mountable and really easy to mount, no wiring installation require.
Built-in sensor eye that detects any motion withing 16ft the light will turn on, then it turns off after 15 seconds
if no motion is detected , the solar panel allow the battery to charge during the day with solar light, normally it can be fully charged in one day under bright sunlight .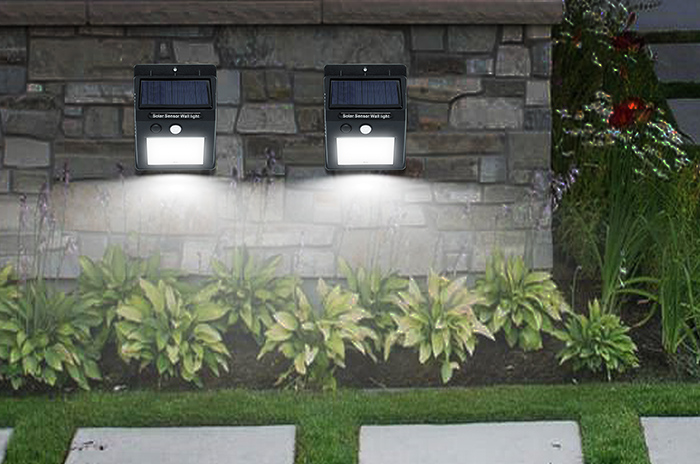 Main Features :
* Motion sensor automatically turn the light on/off (4 Different modes)
* Energy saving. Low Power LED Light
* Build in Lithium battery rechargeable by solar power
* Up to 12 Hours working time with a single charge
* Sunlight sensitive ( only works at night or low light conditions)
* Easy installation and now wiring required


4 Motion Sensor Modes :
The initial mode is MODE 4, use switch button to change mode as below.
* MODE 1: NO light when no motion, bright light is activated when detecting motion within 16Ft shuts off in 15 sec.
* MODE 2: Dim light when no motion,bright light is activated when detecting motion, return to dim in 15 sec.
* MODE 3: Auto on at night / Auto off at sunrise
* Mode 4: Switch off
Packing Content :
* 1 Motion sensor light
* 1 Mounting accessories kit (includes 1 screw, 1 sleeve)
* 1 user manual
Specifications :
| | |
| --- | --- |
| | |
| | |
| | Build-in Battery 2200mAh Lithium Battery rechargeable by solar power |
| | |
| | |
| | |
| | |
| | |
| | |
| | 4.9"x 3.78" x 1.85" (124x96x47mm) |
| | |
| | |