This USB Display Adapter enables you to onnect one more monitor, LCD or projector to a computer with a USB 2.0 port. For desktop users adding an extra monitor via USB connection is easier than ever without having to open the computer chassis to install an internal video card. Once the installation is done, the USB-attached monitor soon wakes up. No function key hassle to swap a second monitor.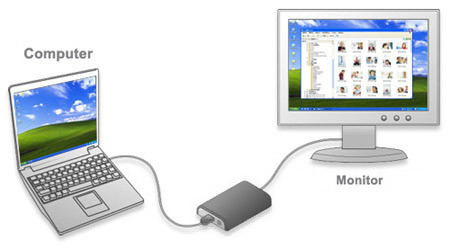 * Add-on monitor, LCD or projector through a single USB 2.0 port
* Hot-plug ; add or remove monitor without system reboot
* Small in size, works with all VGA / DVI-I displays.
* Supports High Resolution up to 1920x1080
* ideo streaming is supported up to 1080p
* Extend and Mirror mode support.
* Resumes from hibernation and suspend modes
* Supports up to 6 USB display adapters to work simultaneously.