TP-Link Product Page: SL5428E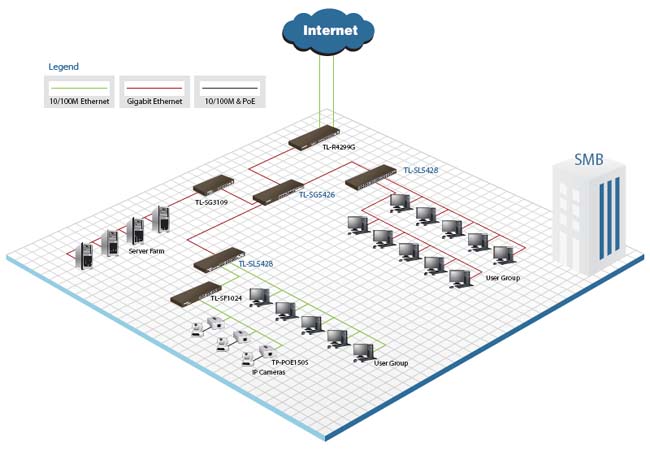 Designed for work groups and departments, SG5428 from TP-Link provides wire-speed performance and full set of layer 2 management features. It delivers maximum throughput where you need it — to high-performance work groups at the edge of the network, or as a backbone for Fast Ethernet switches and high-speed servers in demanding small networks.
Virtual Stackable
IP Clustering allows up to 32 SG5426/SL5428 switches to be managed by a single IP, regardless of geographical locations. With all units identified by a single IP address, the stack could be configured, monitored, maintained as a single object.
Traffic running across units in this virtual stack utilizes full-duplex interfaces and network wires, eliminating costly and cumbersome cables, minimizing the impact of any single point of failure.
Enterprise Level Manageability and Resiliency
Standard management features are included such as SNMP v1/v2c/v3, RMON, intuitive web-based GUI, industry standard Command Line Interface(CLI).
With link aggregation, spanning tree protocol and virtual stack, a highly intelligent and scalable topology could be established, fulfilling the enterprise customers' requirement of building a unified, resilient network.
Comprehensive Security Strategy
Access Control Lists (L2/L3/L4) restrict access to sensitive network resources by denying packets based on source and destination MAC addresses, IP addresses, TCP/UDP ports. This is done by hardware, so switching performance would not be compromised.
Moreover, Dynamic ARP Inspection which protects the network from man-in-the-middle attacks, IP Source Guard which prevents IP spoofing attacks such as DoS, together with 802.1x port-based authentication provide robust security to the network.
Optimized Voice and Video Applications
To integrate voice, data and video service on one network, SG5426 applies rich QoS policies. Administrator can designate the priority of the traffi?c based on a variety of means including IP or MAC address, TCP or UDP port number, etc, so voice and video are always clear, smooth and jitter free.
For other multimedia-on-demand application such as IPTV, SG5426 provides advanced features for easy stream management. For example, IGMP snooping ensures the switch intelligently forward the multicast stream only to the appropriate subscribers while IGMP throttling & filtering restrict each subscriber on a port level to prevent unauthorized multicast access.